COURT
JUDGE BRAD SMITH
Judge Smith is currently serving his third 6-year elected term as Sandusky County's Juvenile & Probate Court Judge. He was born in 1969 to Ken & Jane (Mayle) Smith, and resides in Fremont, with his 4 sons. His ability to be successful in this position has come from a great variety of life experiences and activities, some of which are highlighted below...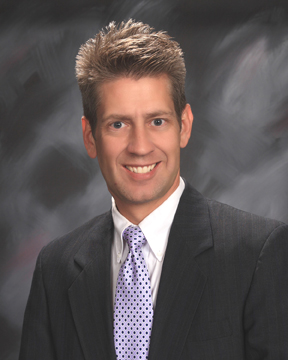 Education:
Graduate of U.S. Army Basic & Advanced Training, Fort Leonard Wood, 1987 & 1988
Graduate of Saint Joseph Central Catholic High School, 1988
Graduate of Ohio State University - B.S. in Business Administration, 1992
Graduate of University of Toledo Law School - Juris Doctor Law Degree, Cum Laude, 1995
Current Activities or Memberships:
Ohio Association of Juvenile Court Judges
National Council of Juvenile & Family Court Judges
Ohio Association of Probate Court Judges
Family & Children First Council Executive Committee
Sandusky County Historical Society
Rutherford B. Hayes Presidential Center
People for the Parks
Friends of the Library
S.J.C.C., Ohio State University, & University of Toledo Alumni Associations
Sandusky County and State of Ohio Bar Associations
National College of Probate Judges
American Judges Association
Previous Activities or Memberships:
Sandusky County Terrorism Task Force
Emergency Management Agency Board
Local Emergency Planning Committee
Investment Advisory Board
Revolving Loan Fund Board
OSS Solid Waste Board of Directors
S.J.C.C. Annual Fund Board
W.S.O.S. Board of Directors
Prior member of Fremont Elks & Fremont Kiwanis
Fremont Sesquicentennial Celebration Committee Treasurer
Past President of Sandusky County Bar Association
Additional Information:
Previously elected 3 times as Sandusky County Commissioner
Former Assistant Prosecuting Attorney for Fremont Municipal Court
Prior service as an At-Large Fremont City Council Member
Served as a Sergeant in the Ohio Army National Guard, 612th Engineers, Co. B
Has previously taught classes at Terra Community College & S.J.C.C. High School
Co-Owner of Fremont Raceway Park Go-Kart Track (formerly "Hasselbach's")
Hobbies:
Enjoying time with his Family, Travel, Motor Sports, and OSU Football
COURT HOURS AND LOCATION
The Court's hours are 8:00 a.m. – 4:00 p.m. Monday through Friday. The Court is closed on all legal holidays. The address is 100 N. Park Ave., Fremont, OH 43420. The main telephone number for Juvenile Court is 419-334-6200. You are required to enter through the front of the Courthouse located on Park Avenue and be screened by the Courthouse Security Officers.
LEGAL HOLIDAYS
New Year's Day
President's Day
Juneteenth
Labor Day
Veterans Day
Christmas Day
Martin Luther King Day
Memorial Day
Independence Day
Columbus Day
Thanksgiving Day
COURT ATTIRE
If you are appearing for a court hearing, there will be a Judge or Magistrate presiding. It is important to wear clothing that shows respect and that you are taking this matter seriously. Be conservative, as you want to present the best image possible. Suggestions are clothing you would wear to work or a nice social function. If you are dressed inappropriately, the Judge or Magistrate may take exception and reschedule the hearing with an enforceable dress code.
COURT COSTS
UNTIL FURTHER ORDER OF THE COURT THE ADVANCE DEPOSITS FOR PLEADINGS IN THE JUVENILE DIVISION ARE AS FOLLOWS:
| | |
| --- | --- |
| Adult Contributing | $120.00 |
| Certification of a Court Order | $1.00 |
| Complaint (per child) | $178.00 |
| Contempt (per child) | $116.00 |
| Copies (per page) | $0.25 |
| Delinquency Felony | $131.00 |
| Delinquency Misdemeanor | $100.00 |
| Guardian Ad Litem (Deposit) | $500.00 |
| Motion when Reactivating a Case (per child) | $116.00 |
| Out of State Traffic Bond | $150.00 |
| OVI Modifications | $115.00 |
| Probation Violation | $100.00 |
| Seatbelt | $71.00 |
| Traffic Moving Violation | $110.00 |
| Traffic Non-Moving Violation | $81.00 |
| Unruly | $71.00 |
ANNUAL REPORT
UNCLAIMED FUNDS
All public officials are liable for public money received or collected. All money received or collected that hasn't been paid out according to law shall be paid into the County Treasury, on the order of the County Auditor, and shall be retained there until claimed by its lawful owner. If not claimed within a five year period, the money shall revert to the General Fund.
On the First Monday of January, the Court is required to post a list in the Court's Office designating the amount of money and the name of the party in which the "unclaimed" funds remain, for a period of one year preceding the First Monday of January, for 30 days. On the Second Monday of January the list must be posted on the Court's website, for the same period of time. Unclaimed Funds for Juvenile Court are:
UNCLAIMED FUNDS
Checks have been issued by Sandusky County Probate Court and remain unclaimed and are now considered void. If these checks are NOT reissued by January 31, 2023, the money will be turned over to the Sandusky County Auditor, to be paid into the Sandusky County General as unclaimed funds.
| CASE NUMBER | CHECK NUMBER | NAME | AMOUNT |
| --- | --- | --- | --- |
| None | | | |
Please contact Amber Broshious at 419-334-6217, Sandusky County Probate Court in order to have the check reissued. Thank You.
LOCAL RULES
Coming Soon